Dentures (Full and Partial)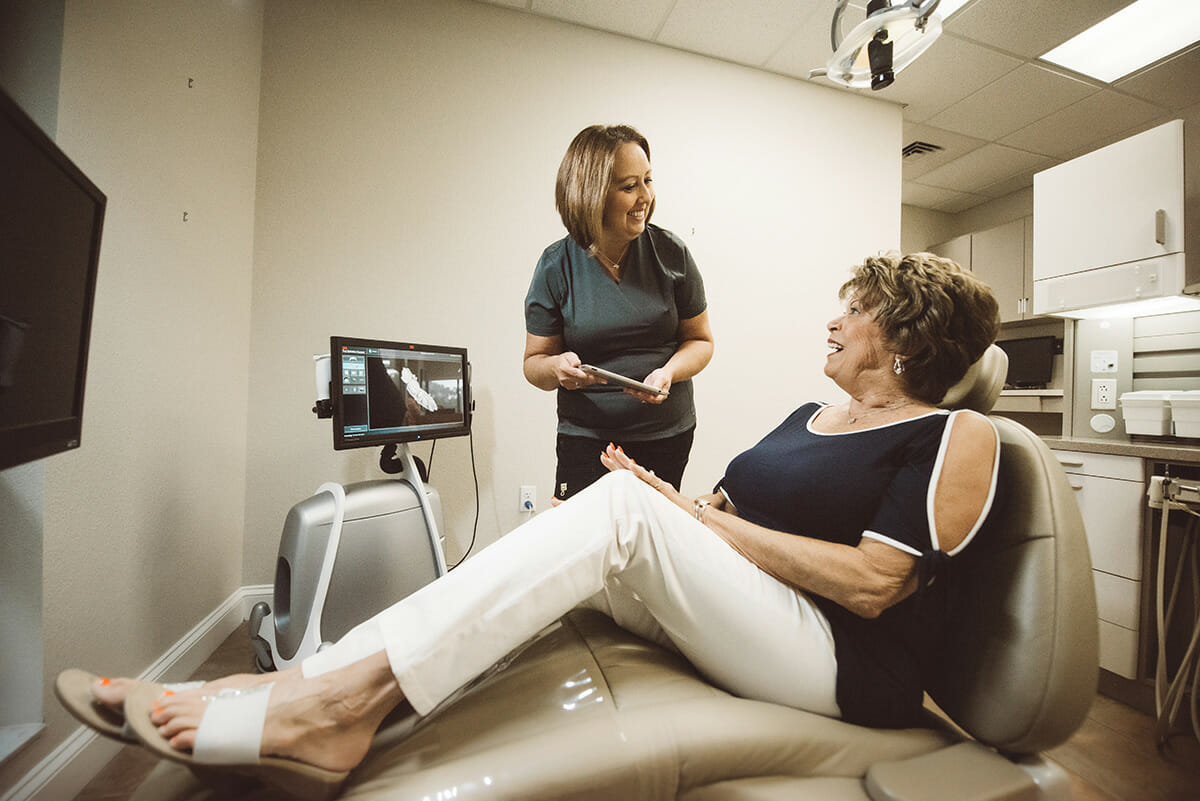 A practical solution for replacing large amounts of missing teeth is a set of full or partial dentures. These artificial teeth are molded to look just like natural teeth and can help patients speak, eat, and maintain their natural face shape. Crosby Dentistry has several denture options for you to choose from. Our team is happy to cover the benefits of each option to find a suitable solution that is natural-looking and easy to care for.
What Is the Difference Between Full and Partial Dentures?
Sometimes, patients need to have all of their top or bottom teeth removed and replaced. When several teeth in a row — known as a dental arch — must be replaced, a full set of dentures is recommended. Full dentures are dental devices that restore a large section of teeth, giving a natural and complete smile. Usually, full dentures are held in place with natural suction or using a special denture glue.
In other cases, just a partial denture is needed. These are perfect for replacing a few teeth in a row using a dental appliance. Partial dentures are much smaller than full dentures, and they are usually held in place with brackets or a wire. Both full and partial dentures are made from natural-looking plastic materials that mimic the look and feel of your natural teeth.
How Can I Know If Dentures Are Right for Me?
Dentures are a viable option for many people with tooth loss, but they aren't always the best option for everyone. At Crosby Dentistry, we always consider your individual situation and your personal needs when determining if dentures are right for you.
Sometimes, a less invasive and less permanent option is a better fit for your needs and lifestyle. For example, a simple dental implant and crown may work to fill a small void in the mouth, or for just one or two missing teeth, a bridge may be a suitable option. Consulting with the dentist can help you create a treatment plan that will work for you.
How Are Dentures Made?
First, a mold is made of your mouth using soft, pliable wax. The wax mold is then sent to a laboratory where professionals will create custom-made dentures to fit in your mouth. Dentures are made with the skill and precision of an artist so that they will look as realistic as possible. These restorative dental devices are made of rigid plastics like nylon, resin, or acrylic. Often, the gum and tooth color are selected to match your natural teeth. Once a set of dentures is created, the final product is sent back to the dentist so it can be further customized to fit your mouth.
Can I Remove Dentures?
One attractive feature of dentures is that they offer a long-lasting solution that can usually be removed. Dentures should be removed and cleaned daily to keep them in good condition. Alternatively, some patients choose to have their dentures affixed to a metal dental implant or cemented into place. Of course, there are benefits to each option, and a consultation with Dr. Crosby can help identify the benefits of each.
How Do I Clean Dentures?
Many patients think of their complete and partial dentures as a natural extension of their teeth. Just as you would care for your natural teeth, you will want to care for your dentures in the same way. Because dentures can collect plaque and tartar, be sure to brush and clean them regularly. Also, be sure to only use a toothpaste intended for dentures.
When you are not wearing your dentures, it is crucial to keep them moist — allowing them to dry can cause them to crack and break. Like other restorative dental fixtures, be careful not to eat hard foods like nuts that could chip or break the dentures.
Crosby Dentistry can help you explore your options for restoring and maintaining your smile. If you have questions regarding denture options or denture care, reach out to our office for a consultation.