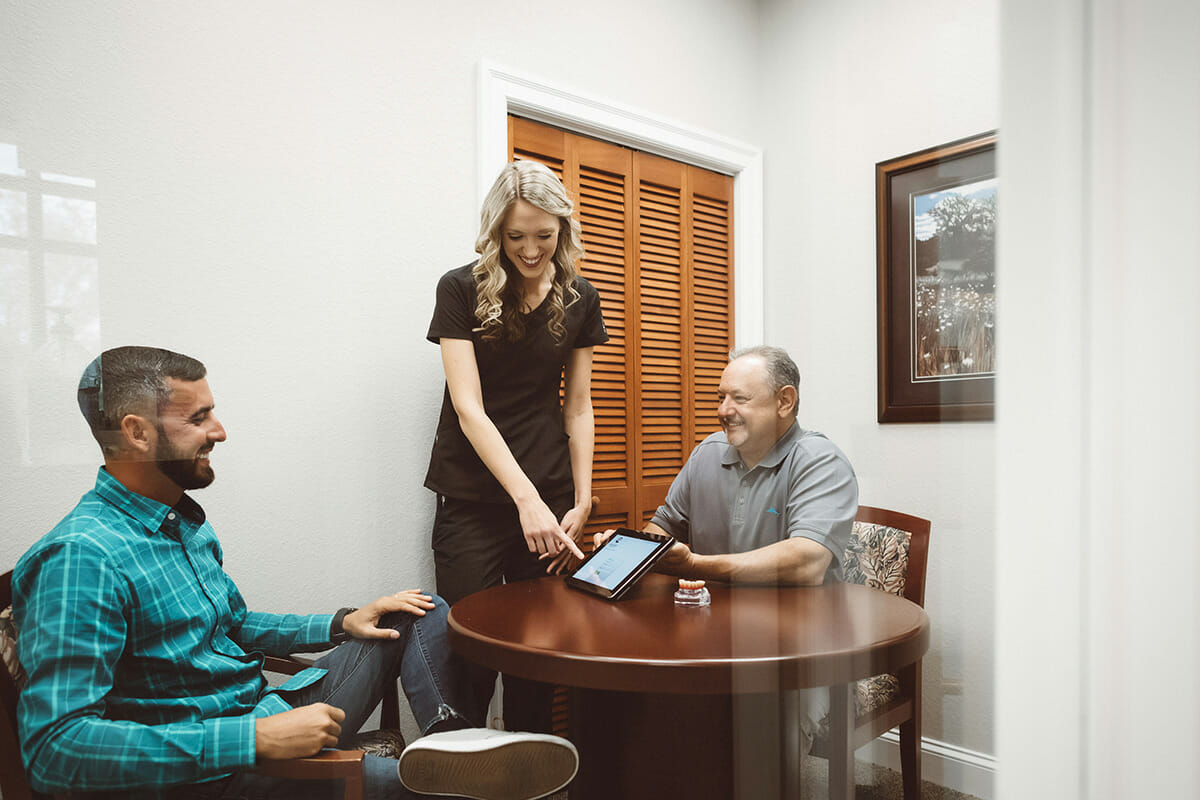 Restorative dentistry treatments — such as dental crowns, veneers, and dentures — give dentists like Dr. Crosby the ability to restore a natural-looking smile to patients. Not only is restorative dentistry needed for dental health reasons, but often the procedures can return confidence to patients as they are thrilled with their brand-new smile that looks and feels like their natural teeth. Using porcelain products in restorative or cosmetic procedures helps to ensure longevity, lasting for years to come.
What Are the Benefits of Using Porcelain?
Compared to other commonly used products, porcelain is a preferred material for dental applications.This material is beautiful and incredibly strong. Your teeth endure a great deal of strain, pressure, and wear, and porcelain can withstand it all. Typical dental metal amalgams can last up to twelve years, but porcelain has been known to last for fifteen years or longer.
Plus, porcelain is a very versatile material that can be used in several applications. It can be molded and shaped to look and feel just like natural teeth. Porcelain also comes in several different colors, allowing patients to easily match their natural tooth color or opt for a whiter, brighter shade to enhance their smile. For these reasons, it is very common to see porcelain used in dental crowns, bridges, and veneers.
Lastly, porcelain is a beautiful product. It is light and smooth and gives the appearance of natural teeth. Porcelain can be custom-designed for each individual patient, making a beautiful creation for each separate smile. Porcelain is smooth and glossy and will function just like a natural tooth.
How Is Porcelain Applied?
Porcelain can be applied in different ways depending on the cosmetic or restorative dentistry you select. Sometimes porcelain is used in crowns and veneers, where it is molded and shaped to look like a natural tooth. Or, it can be used as an inlay or onlay, to be fitted over the top of the natural tooth. In other cases, porcelain is used as a dental filling and is poured and molded into a cavity.
A porcelain dental structure is often custom-made for the patient and then fitted onto the natural tooth using a permanent dental cement. Depending on the application, the natural tooth may gently ground to create a rough surface. This process gives the cement and porcelain something to adhere to. During any restorative or cosmetic procedure, the team at Crosby Dentistry will keep you comfortable. If you are nervous, we can always talk about sedation dentistry to help ease your mind throughout the process.
How Long Will Porcelain Last?
One of the most significant benefits of using porcelain is the long life expectancy of this material. Porcelain is incredibly durable and can withstand your teeth's daily wear and tear. Most porcelain applications will last for fifteen years or longer. With the proper care, porcelain dental crowns have been known to last for at least thirty years.
Taking great care of your teeth will allow your porcelain applications to last longer. Remember to treat your porcelain just like you would a natural tooth. You will want to brush at least twice per day with a soft-bristled brush, and remember to floss. Porcelain can stain, break, and chip if you are not careful, so remember to avoid crunching hard foods or drinking dark-colored liquids. With porcelain dental structures, you will always want to avoid using tobacco products.
Crosby Dentistry offers a range of porcelain dental applications to correct and enhance your smile. Call our office to schedule your appointment, and we'll gladly develop a customized solution just for you.