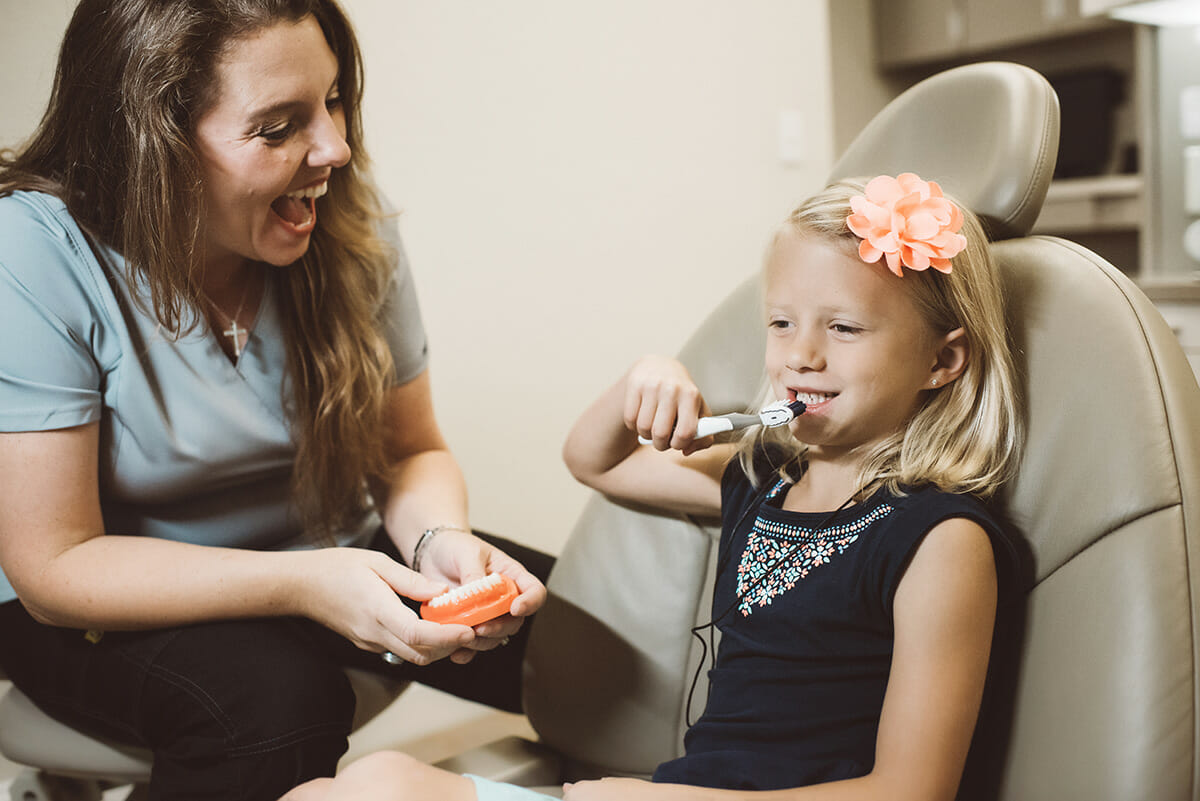 Taking care of children's teeth is an essential part of providing ongoing quality health care. Early dental care and oral hygiene are pivotal for young children as their teeth grow and develop. At Crosby Dentistry, we strive to instill good dental habits in young children so they can grow up with a strong, healthy, and beautiful smile. Our exam room is fun, relaxed, and stress-free, making your child excited to come for a dental exam.
How Old Should My Child Be for Their First Dental Exam?
It is a good idea to bring your child to the dentist around their first birthday. We recommend this timing because it is usually about six months after the first teeth start to show. Of course, if your child has any issues with stubborn teeth erupting, be sure to call Dr. Crosby to set up an appointment.
You should also make an appointment at our office if you start to notice any signs or behaviors that could have bigger implications for your child as their adult teeth start to form.
We recommend making an appointment if you notice:
Teeth staining
Thumb-sucking
Sleeping with a cup or bottle
Down syndrome
These conditions and behaviors can significantly impact how your child's teeth form and grow. Getting ahead of and treating problems early can help set your child up for a lifetime of healthy teeth and gums.
Can Infants Be Seen?
We always recommend seeing children about six months after their first tooth erupts, but of course, we are happy to see younger children and babies if there is a need. Sometimes young infants have dental issues that prevent teeth from erupting normally. If you suspect your child is experiencing difficulty, be sure to schedule an appointment with Dr. Crosby.
What Will Happen at My Child's Appointment?
Many children can be unsure and fearful of places they haven't been to. This hesitancy is normal and understandable! That is why it is important to introduce your child to the dentist at an early age. Making biannual dentist visits part of their regular health care routine will make appointments easy and calm for your child.
Our office is created with your child in mind. Our environment is stress-free, friendly, and welcoming to children. We have a play area for them to enjoy, and every member of our staff is friendly, outgoing, and pleased to have your child join us.
During the dental exam, we will work slowly and patiently. We understand how new and different the various sights and sounds can be for a child who is experiencing the dentist's office for the first time. We are happy to take our time, explain what is happening at each step of the exam, and ensure your child remains comfortable and confident throughout the appointment.
What Is the Best Way to Care for My Child's Teeth?
When your child is small, you can simply use a moist cloth to wipe away any debris from their teeth. Usually, your child will have their full set of teeth when they are three years old. If you like, you can start to use a soft-bristled children's toothbrush to better clean in and around the teeth. Be sure to only use non-fluoride toothpaste until your child can spit out excess toothpaste. Once your child is old enough to spit, feel free to switch to a mineral-rich fluoride toothpaste to give their teeth extra protection.
Of course, routine cleaning and screening exams are a vital part in caring for your child's teeth and overall health. Reach out to our office to schedule your child's first appointment. We'll be happy to walk you through what to expect depending on the age of your child.