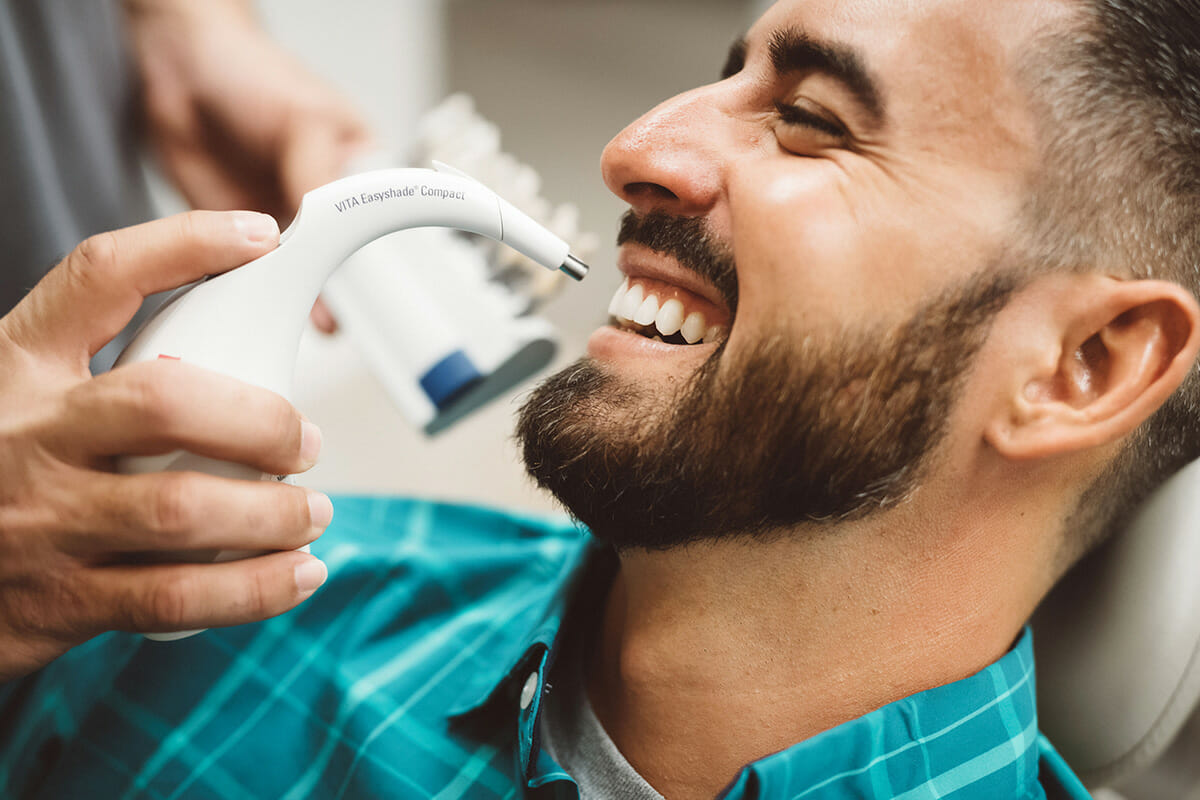 If you want whiter, smoother, and straighter teeth, veneers may be a perfect option. This form of cosmetic dentistry gives patients an improved smile while allowing most of the natural teeth to remain in place. Veneers are incredibly versatile and customizable, allowing you to improve your smile easily and effectively. At Crosby Dentistry, we are happy to walk you through the various options for veneers, and we will help you choose the right cosmetic procedure for your needs.
What Are Veneers?
Veneers feature a thin layer of porcelain that is applied to the surface of your natural tooth. They are specially designed to mimic the look and feel of your natural smile. Every set of veneers is custom-made, so you can choose the perfect color and shape for your mouth. This cosmetic procedure is a great way to straighten or brighten a smile.
What Happens During a Veneer Procedure?
Usually, the veneer procedure requires two separate appointments. During the first appointment, Dr. Crosby will gently remove the top-most portion of each tooth where a veneer will eventually be placed. Because each veneer is so thin, much of the natural tooth will remain. Next, the dentist will take a mold of your mouth using soft wax. The mold is then sent to the laboratory, where professionals will design your veneers to fit custom to your mouth. You'll also be able to choose the final color for the veneers at this point. Dr. Crosby will place a temporary covering on your teeth as you await your set of veneers.
Once your veneers are sent back to our office, you can complete your cosmetic procedure. Your temporary veneers will be removed, and the dentist will carefully clean and sanitize each tooth. The veneers will be cemented into place, covering your natural tooth to create a beautiful smile. Tiny adjustments may be made to ensure there is plenty of room between each tooth to allow you to floss and to ensure that your bite pattern remains the same. Then, all you have to do is show off your brand-new set of teeth to your friends and family.
What Are the Benefits of Veneers?
Veneers are a very easy cosmetic procedure that many patients opt for. Not only are they long-lasting, but they are fully customizable. You have the power to choose the final color for your veneers, as well as the shape. Plus, veneers can cover just one tooth or all your teeth. This feature allows you to target a single problematic tooth or create a brand-new canvas with a full set of veneers in your mouth. The procedure to place veneers is generally painless, and just a local anesthetic is required.
Do Veneers Require Special Care?
Once your veneers are in place, they will function and feel just like your natural teeth. Care for your veneers by brushing twice per day and flossing at least once per day. Veneers are made of porcelain, which makes them very durable. Still, try to avoid biting into hard foods like nuts and ice. With the right care, dental veneers can last for at least ten years. Keeping regular dental cleaning appointments is also part of good veneer care.
If you're ready for a smile makeover, contact Crosby Dentistry today. We can discuss your unique situation and develop a veneer plan to improve your smile.