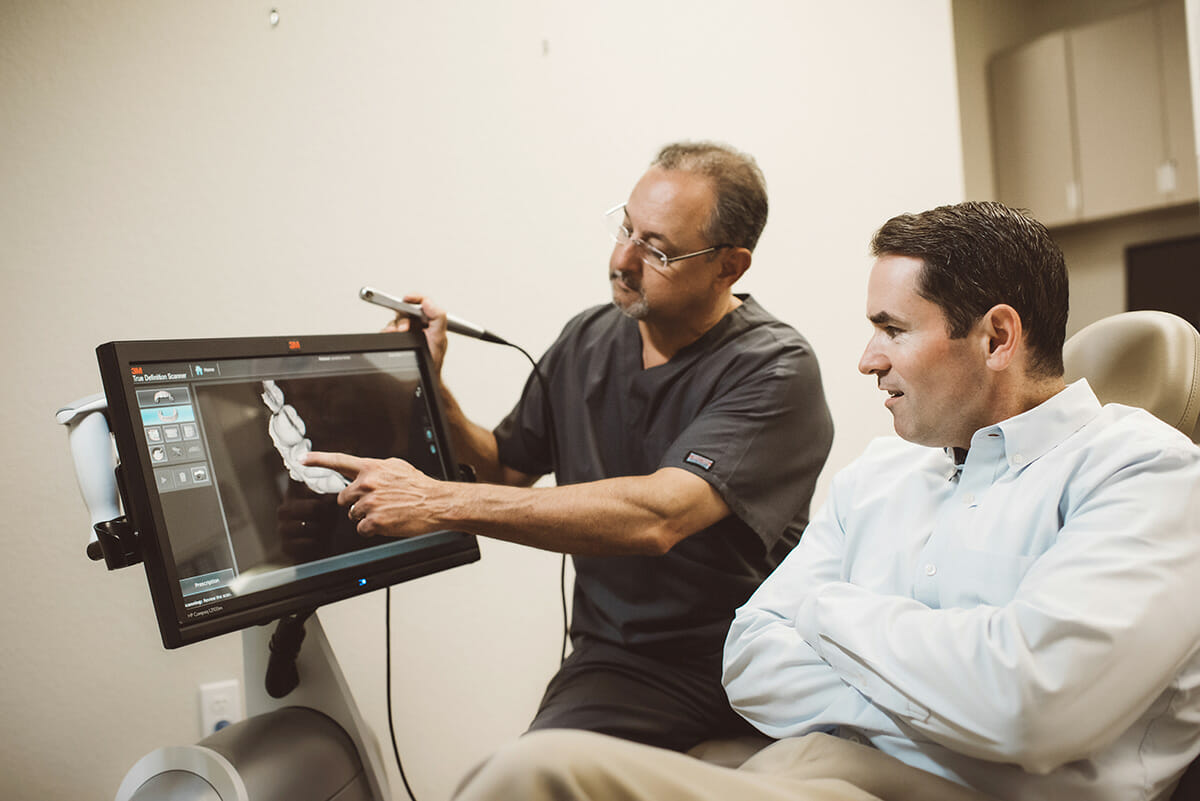 The team at Crosby Dentistry is passionate about finding innovative ways to treat our patients and bring them the highest quality dental care. With new technology, our dentist can now use a small camera inside the mouth to take detailed images of the teeth and gums. Not only can this device help to image hard-to-reach places, but it can be used as a powerful educational tool when showing patients the inside of their mouths. The intraoral camera is easy to use and is completely painless, making it the perfect tool for children and adults alike.
What Is an Intraoral Camera?
An intraoral camera is a specialized tool used by dentists. This small tool features a digital camera at one end. With its compact design and thin shape, the camera can easily fit into the mouth and can reach into small and tight places. Dr. Crosby can skillfully maneuver the camera throughout a patient's mouth, imaging certain areas of interest including the teeth and gums. By driving the digital camera into hard-to-reach places, the dentist can get a better view and make a better diagnosis. Intraoral cameras help examine areas of the mouth in great detail that otherwise would be impossible to see.
How Is an Intraoral Camera Used?
An intraoral camera has several applications that are useful to the dentist. Sometimes, the camera is used as a preventive check to ensure that all of the teeth, the mouth, and the gums are healthy. Other times, the intraoral camera may be used to image an area of the mouth that may need further examination. Using an intraoral camera is also essential for diagnosing a diseased or decaying tooth or tracking the progression of gum disease.
The tiny camera can also be used to help educate patients about their oral health. While Dr. Crosby may be able to see parts of the mouth in fine detail, it can be challenging for a patient to see their own mouth. With an intraoral camera, it is possible to take an image of the teeth and gums and then clearly show the patient the current condition. At Crosby Dentistry, we believe in innovative approaches to help teach our patients about the importance of their dental hygiene.
What Conditions Require the Use of an Intraoral Camera?
An intraoral camera is a powerful dental tool that has several practical applications, and just about any patient can qualify for intraoral camera use. Because we like to view the tool as a way to better educate our patients, we are happy to use the camera to take photographs of your mouth. We want you to be able to see how your hard work is paying off, and often an intraoral camera can help show patients the dramatic difference that brushing and flossing can make.
We may also choose to use the intraoral camera if you are undergoing a specific procedure. In these cases, Dr. Crosby will be able to walk you through the procedure step by step and in great detail to help give you an idea of what is happening inside your mouth. For some patients, seeing the work being completed during the procedure gives them peace of mind and eases their tension.
If you're interested in learning how Crosby Dentistry can utilize technology to help you achieve your smile goals, give our office a call today. We'll be happy to schedule a consultation to address all of your dental needs.