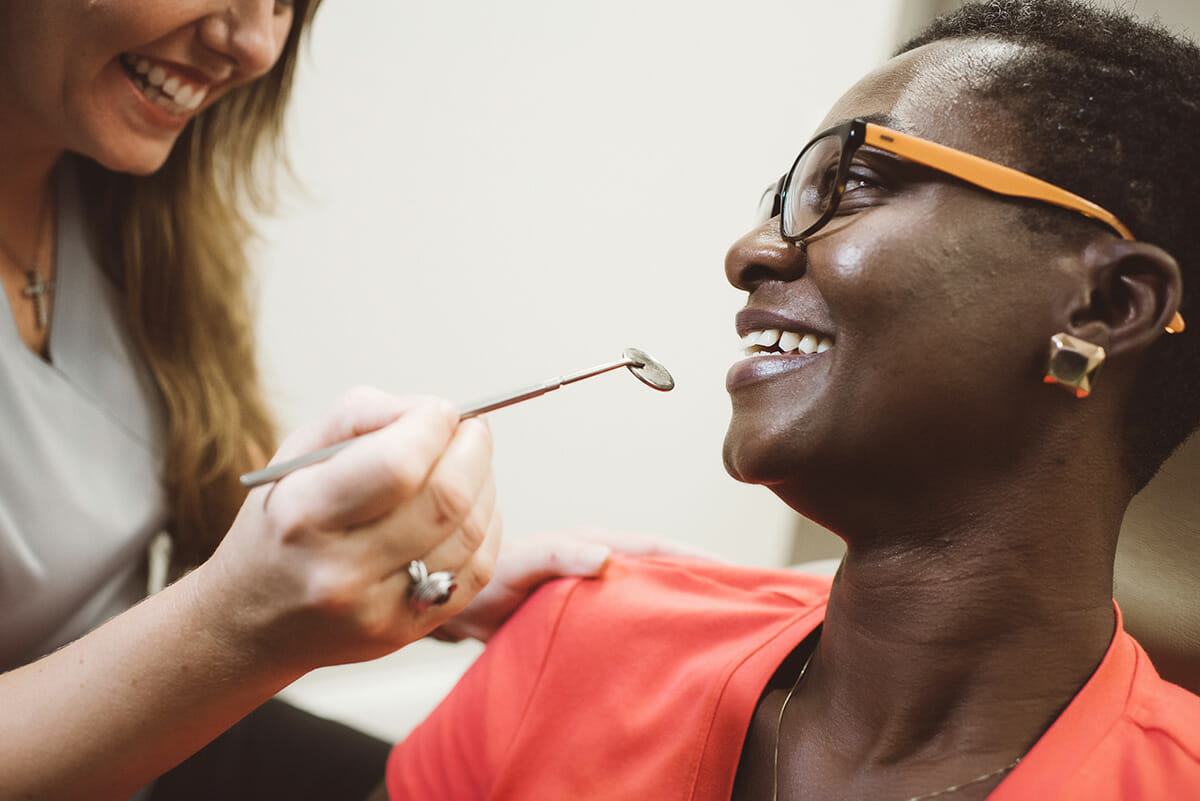 Life is full of surprises, and even if you do everything right, you can still be subject to injury or disease. So, when accidents happen, rest assured that the team at Crosby Dentistry is here to help. We offer a range of restorative dentistry options to keep your smile intact, even when injury, disease, or decay strikes. Our team provides comfortable, effective restorative solutions to maintain your confidence and renew your smile.
What Services Do You Offer?
We understand that every patient is different, and there is no one-size-fits-all solution for restorative dentistry. Whether you require tooth repair or replacement, we offer plenty of options.
Some of our available services include:
By meeting with Dr. Crosby, you will work together to find a restorative solution that meets your individualized needs.
What Is Root Canal Therapy?
Sometimes referred to as endodontic therapy, root canal therapy is a treatment method to help remove infection or decay from the teeth. The tooth structure consists of the top, surface part of the tooth, which we see when we smile. Below the gum line, the tooth is held in place with roots filled with nerve endings. Sometimes, when decay and infection are left to spread through the mouth and teeth, the disease can settle in the roots, causing the tooth to become inflamed.
Root canal therapy involves accessing the roots and carefully removing decay and infection right at the source. By eliminating the infection, a dentist can improve the immediate disease and prevent future infections from reaching the pulp in the root of the tooth. This brings fast relief to the patient, and it can help keep the teeth healthy in the future.
Is There a Difference Between a Bridge and Dentures?
Both a bridge and dentures can be used to help fill gaps where teeth are missing. A bridge and denture device are both beneficial options for restorative dentistry, giving patients a renewed smile. While these two treatment options are similar, they have some differences that make each one better suited for certain patients and cases.
Most commonly, a bridge will fill in for up to three missing teeth. It is a permanent dental appliance that creates a replica tooth, similar to your natural tooth, in the space of a missing tooth. The bridge relies on two healthy natural teeth to support the structure on either side of the gap. Unlike a natural tooth, a bridge does not have a root system unless it is artificially held in place with an implant.
Comparatively, dentures are used to give the appearance of a full smile when multiple teeth are missing. They are a perfect solution for a row of missing teeth. Like a bridge, dentures can look and feel like your natural teeth, giving a flawless appearance. This form of reparative dentistry is versatile and adaptable, making dentures ideal for many patients. Dentures can be held in place with glue, wire, implants, or brackets.
How Can You Treat Gum Disease?
Gum disease treatment is another segment of restorative dentistry that can look different for each patient, depending on their condition and symptoms. For example, gum disease may be treated with a simple scaling and root planing, or it can be treated with skin flap surgery. Depending on the type and severity of gum disease, dentists can also turn to regenerative treatments, bone grafts, or skin grafts to help repair damaged tissue with fresh, healthy tissue. After the surgery, the patient is left with a beautiful, healthy smile.
To learn more about all the restorative dentistry options available at Crosby Dentistry or to schedule your next dental appointment with our team, we welcome you to contact our office today.