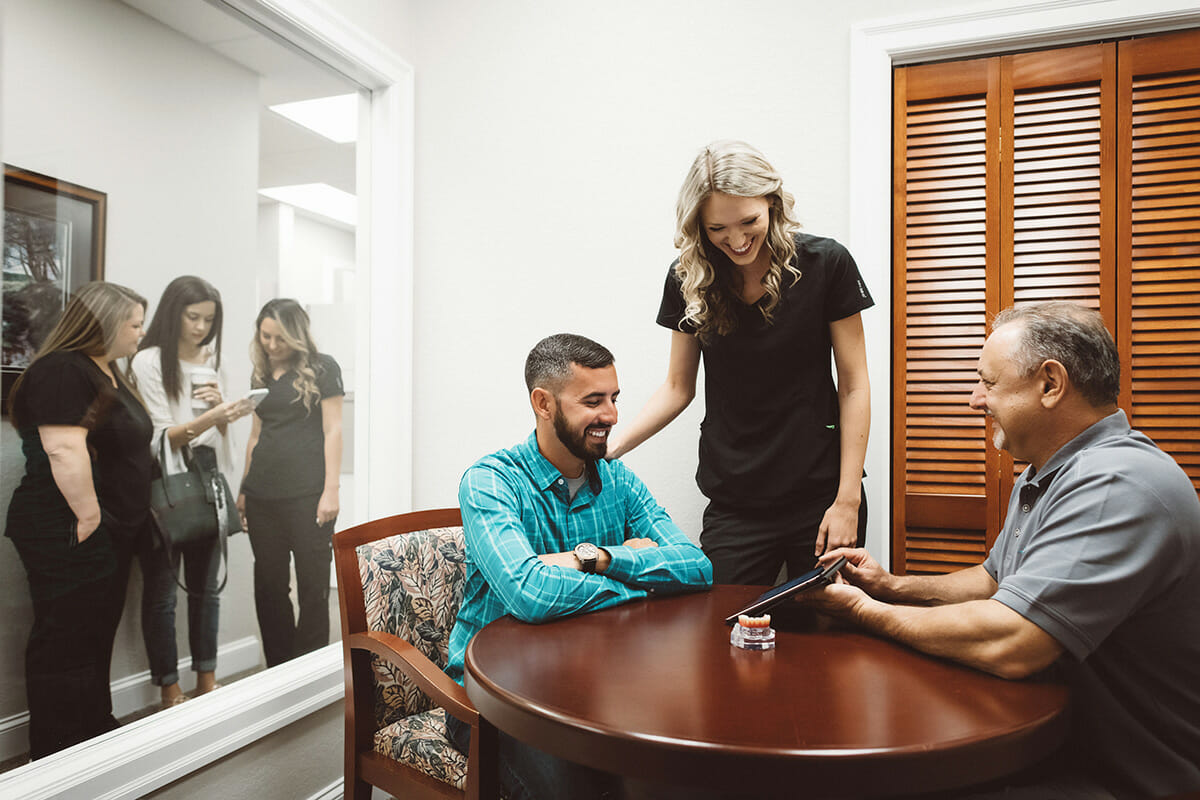 Dental implants are wonderful tools for restoring the appearance of a big, beautiful smile. This restoration option is versatile, safe, and healthy for your entire mouth. Made of bio-friendly titanium, a dental implant gives added strength and support to allow you to have new crowns that fit flawlessly with your natural teeth. Dental implants are not only inconspicuous; they are versatile and long-lasting too.
What Is a Dental Implant?
A dental implant is a way to help restore a full smile using modern technology. A small rod or screw is inserted directly into the jawbone using a piece of bio-friendly metal. The post is secured into the bone and will eventually heal to merge with the bone structure, making the post even stronger.
The portion of the metal post that is inserted into the jawbone sits below the gum line and is not visible. The space where the post is inserted will eventually heal evenly in line with the rest of your gums. Part of the dental implant will remain exposed, sticking out of the gums. A crown is then inserted into the space of your missing tooth, using the metal post as support. Once the structure and gums heal, you are left with a beautiful, complete smile.
How Can a Dental Implant Help?
Sometimes tooth loss and decay occur as a result of an accident, injury, or illness. When it is too difficult to save the tooth, extraction may be the only option if the surrounding tooth structure is too delicate to support a bridge or is surrounded by too large of a gap. Inserting a dental implant directly into the bone can give your crown something solid and secure to hold on to and can also make a seamless smile.
In addition, filling the gap where your missing tooth once was will help keep your remaining teeth healthy. The dental implant and crown will fill the void, allowing your natural teeth to remain in place without shifting. As a result, your bite and jaw alignment will remain the same, and your smile and appearance will go completely unchanged.
What Can I Expect at My Appointment?
At Crosby Dentistry, we strive to keep our patients comfortable, informed, and at ease. We understand that dental procedures can make people uneasy, and we want you to know what to expect with any appointment.
Usually, a dental implant procedure requires two separate surgeries. During the first surgery, Dr. Crosby will insert the dental implant into the jawbone, creating a secure and robust connection. The implant is then left to heal naturally.
In about six months, the jawbone will naturally fuse with the metal implant, increasing the strength. When the implant is fully healed, it is time to schedule a second surgery. During the second procedure, an abutment is inserted onto the post, just at the gumline. This piece of dental equipment gives the new crown something to attach to. Then, in about two weeks, it will be time to have your final restoration crown applied. Our team keeps you safe and comfortable during the surgical procedures, watching over you during every step of the process.
Is a Dental Implant Permanent?
One of the most significant benefits of choosing an implant restoration procedure is the long lifespan this solution offers. Dental implants are incredibly permanent. Once the titanium rod affixes to the jawbone, the two units are permanently fused, often creating a stronger bond than what naturally exists in your mouth!
Dental implants offer patients a lifetime solution, with the only maintenance being to protect or possibly restore the visible dental crown over time. To keep your dental implant in the best shape possible, be sure to follow good dental hygiene practices. For example, you will want to brush twice per day, floss at least once daily, and avoid tobacco products and dark-colored liquids that can stain your teeth and crown.
To learn more about dental implants and the restorative dentistry treatments offered by our team, Crosby Dentistry welcomes you to contact our office to schedule a smile restoration consultation today.